Go back to
Todayinreligion.com
Aug 1, 2000
Thirty Hindu pilgrims massacred by terrorists in Kashmir, India. The pilgrims were on their way to

Amarnath

temple on annual pilgrimage.
Aug 2, 2005
A sharp debate between scientists and religious conservatives escalated over comments by President Bush that the theory of intelligent design should be taught with evolution in the nation's public schools.

Aug 3, 1978
Rachel David threw her seven children off the 11th floor balcony of a Salt Lake City hotel killing all but one. The widow of self-proclaimed polygamist prophet Immanuel David, who had converted to Mormonism in the early 1960s, then jumped to her own death.



Aug 4, 2004
A Florida woman was fired from her job at local 6 news in Orlando Fla for eating a bacon, lettuce and tomato sandwich in the lunchroom. The station has strong Muslim ties. They objected to the bacon. The woman sued.


Aug 6, 1990
A Christian Science couple from Massachusetts who relied on prayer rather than on doctors as their young son lay dying from an obstructed bowel, were convicted of involuntary manslaughter last month.


Aug 7, 2007
Hindus asked the British government to "explore other options" rather than slaughter cattle in the wake of the foot and mouth outbreak. Our blog has another cow story plus a bonus feature.

Aug 8, 2008
Five members of a Christian motorcycle gang were charged with a variety of felony weapons and gang crimes. The charges were in connection with a double stabbing during a bar brawl with the Hells Angels.


Aug 9, 1969
Sharon Tate and four others murdered by the Charles Manson (left) Cult. The next night, the cult killed two more. Read more on our blog.

Aug 11, 1492
Pope Alexander 4th assumes the papacy. His two dominant passions were gold and love of women. He was a devoted father to his many children by several mistresses.

Aug 12, 2008
At least 300 girls in south-western Kenya have fled from home and sought refuge in churches in a bid to escape forced female genital mutilation.


Aug 13, 2008
A Baltimore woman is charged with the religious cult killing of her 21-month old son (right). Updated on our blog.

Aug 13, 2007
A defrocked priest described in a Philadelphia grand-jury report as a man of "unrelenting depravity" for his sexual abuse of children lives in Central Florida. He did not have to register as a sex offender because the statute of limitations ran out and he was never charged criminally. Update on Clergy Sex Abuse Scandal.

Aug 14, 2007
Four suicide bombers drove trucks packed with explosives into a complex housing members of a small religious sect in northern Iraq, killing at least 175. Some Kurds believe that the Yazidi people, most of whom are Kurds but are neither Muslim nor Christian, are members of a demonic cult.




Aug 15, 1947
India and Pakistan split. 7,226,000 Muslims went to Pakistan from India while 7,249,000 Hindus and Sikhs moved to India from Pakistan immediately after partition. Massive violence and slaughter occurred on both sides of the border. An estimates 500,000 people were killed.

Aug 15, 1852
Two deranged Bábís attempted to kill the Shah of Iran in revenge for the execution of their religious leader, the Báb. This resulted in an extensive pogrom during which more than 20,000 Bábís lost their lives.

Aug 16, 1981
Ervil LeBaron dies in prison. LeBaron was the leader of a polygamist Mormon fundamentalist group who ordered the killings of many of his opponents. After his death, his followers continued killing. More than 25 people were murdered.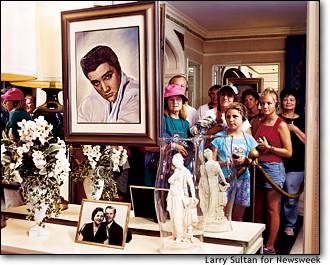 Aug 16, 1977
Elvis Presley dies. It's a day of mourning for the Elvites (right), who worship Elvis as a God. Go to our blog to hear the King sing Amazing Grace.


Aug 17, 2002
More than half of U.S. priests say they perceive a gay subculture in their diocese or religious institute, with 19 percent saying it clearly exists.

Aug 18, 2006
A Philippines judge who said he consulted imaginary mystic dwarfs has failed to convince the Supreme Court to allow him to keep his job.


Aug 19, 2007
Amish farmers in Michigan are resisting the state program requiring cattle be tagged with electronic chips that are intended to track animal diseases and protect public health. The Amish farmers say the chips' 15-digit number is the Mark of the Beast warned of in the Bible's book of Revelation.

Aug 20, 1191
After capturing Acra during the Third Crusade, King Richard the Lionheart ordered the slaughter of more than 3,000 Muslim prisoners that were bound with ropes. Many of the prisoners were women and children.

Aug 21, 2006
A female Sunday School teacher in Watertown, NY was dismissed after the church adopted a literal interpretation of the bible that prohibits women from teaching men. She had taught there for 54 years.

August 22, 2005

Pat Robertson, (right) host of Christian Broadcasting Network's The 700 Club and founder of the Christian Coalition of America, called for the assassination of Venezuelan President Hugo Chavez. He later apologized only hours after he denied saying Chavez should be killed.



Aug 23, 2003
John Geoghan (below), a defrocked Roman Catholic priest and convicted child molester, died after he was assaulted in prison by Joseph Druce (left). Geoghan was accused of sexual abuse involving more than 130 children.


Aug 24, 1572 (St. Bartholomew's Day massacre) Catholic soldiers swept through Huguenot neighborhoods of Paris. Thousands were slaughtered in their homes and other massacres timed for the same night occurred in cities across France.


Aug 25, 2008
A Roman Catholic nun (left) raped in Indian during a riot by Hindus, has publicly denounced local police. She said a group of some 50 men tore off her clothes. She was then raped, before being paraded down the road as police looked on.


Aug 26, 2005
NYC officials question Orthodox Jews after an infant contracts herpes and dies due to oral suction practiced during circumcision.

Aug 27, 1987
"I don't know that Atheists should be considered as citizens, nor should they be considered patriots. This is one nation under God." George H. W. Bush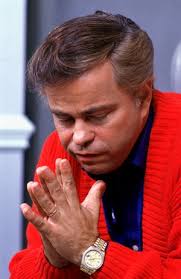 Aug 28, 1988
Televangelist Jim Bakker goes on trial on eight counts of mail fraud, 15 counts of wire fraud and one count of conspiracy. Five weeks later he is found him guilty on all 24 counts.


Aug 29, 2005
The Air Force issued new religion guidelines that caution against promoting any particular faith. The Air Force developed the guidelines after complaints from cadets at the Air Force Academy that evangelical Christian leaders were using their positions to promote their faith. Four years later the military is still dealing with this problem. See our blog. (left the Academy chapel)

Aug 30, 2007
An Australian fundamentalist pastor told a judge he had sex with two of his teenage daughters to educate them on how to be good wives. He received an 8 ½ year sentence.

Aug 31,2005
A new poll found that nearly two-thirds of Americans say that creationism should be taught alongside evolution in public schools.

Go back to Todayinreligion.com